The "Paw"tio at Le Marcel
Reservable space for you, your friends, and all the pups.
The "Paw"tio is a private part of Le Marcel Dog Bakery and is reservable for parties up to 15 people or 15 dogs, whichever limit is reached first. Exceptions can be made on a case by case basis, simply discuss your needs at the time of reservation.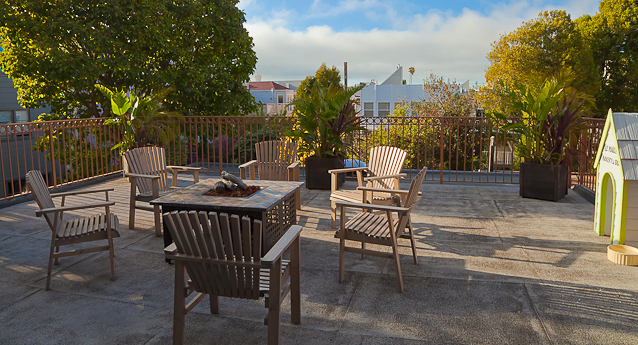 The "Paw"tio is perfect for:
Birthday Parties
Adoption Celebrations
Training Class Graduations
Meet Up Groups
Amenities provided:
Secured, off-leash area
Water dishes
Cookie samples
Seating & Tables
Choose from a huge assortment of treats, cookies, and cakes for the pups. These can be pre-ordered and ready to go when you arrive, or purchased same-day. You are always welcome to bring people food and drinks for your guests to enjoy, just be sure to bring along all necessary supplies and utensils. No human-use items are available at The Bakery.
*Due the fact that our "Paw"tio is in the midst of a residential area, we cannot allow PA systems (amplification) of any kind. Music is allowed, but ambient is preferred and it must be kept at low volume.
*Notice in case of inclement weather: The "Paw"tio will close in the event of rain, strong winds, or snow. Use of the indoor space will not be permitted. Any "Paw"tio attendees at the time of closure may not loiter within the bakery space. Fees will be refunded at time of closure.
Call to Reserve Your Preferred Time
415-440-2498
Friday: 2:00 pm or 4:00 pm
Saturday: 1:00 pm, 3:00 pm, or 5:00 pm
Sunday: 2:00 pm or 4:00 pm
'Paw'tio Party Pricing
$35 for the first two hours
$30 for each additional hour
Reservations are required to exclusively use the space. Payment is required for the first two hours before your reservation is complete.